Central Scotland hills and walks.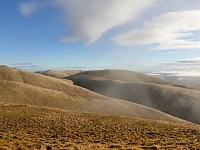 Ochil hills near Stirling
Ochil hills.
The ochil hills are a great little range of hills for those looking for a less strenuous day out or for those with less time on their hands.That's not to say they are a walk in the park!.
There are many different routes to choose from, some starting from the beautiful dollar glen with its castle Campbell standing proudly over the lovely waterfalls and oak woods. 
The ochils are also ideal for navigation practice or an introduction to hill skills.