Cairngorms. Explore Scotland's sub-arctic.
Cairngorm 4000s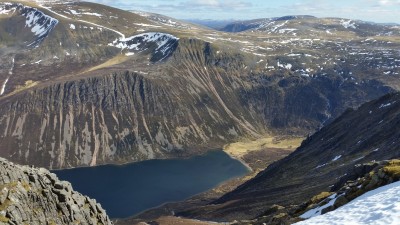 With it's high plateaus, spectacular corries and some of the best preserved Caledonian pine woods it's hardly surprising the Cairngorms and their surrounding areas were designated a national park in 2003.
The Cairngorms are among the highest mountains in the British Isles and home to five of the six highest in the UK, with Ben Macdui only a mere 35m short of Ben Nevis. Due to the brutal climate this vast area is home to the only arctic type landscape in the British Isles, similar to areas of Scandinavia or Arctic Canada.In the summer months snow lingers here longer than anywhere else in the UK, with some patches to lasting right through to the following winter.
If you'd like to explore this grand landscape, we can tailor a trip to suit you. You can choose from popular northern summits such as Cairngorm and Ben Macdui  for a day hike, or perhaps you'd like to extend it to a 2 day backpacking trip, to include Braeriach and Carn Toul and experience some of the less travelled areas of this amazing place.